Citrus Heights Irrigation Installation Pros

Keep Your Lawn Lean and Green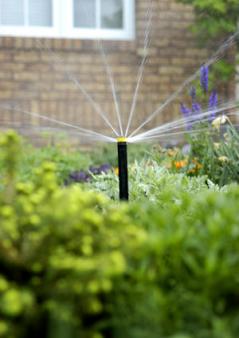 Even if your sprinkler system is working great, chances are that you still may be using up to twice the amount of water that your yard needs to stay healthy. The average homeowner's sprinkler system was not designed with efficiency or conservation in mind. Because of this, you could be throwing 8,000 gallons per year down the drain.
From Sprinkler Heads to Ground Cover, We've got you Covered
Our local team of Citrus Heights irrigation installation technicians is already experts at keeping your home irrigation system at peak power. What you may not know is that we also specialize in water conservation solutions that can save you water every year, and reduce your environmental footprint. We are standing by to help optimize any aspect of your home irrigation system to use less water and to use that water more efficiently.
Sprinkler Heads Only Scratch the Surface When it comes to Smart Irrigation
Every home is different. Every sprinkler system is different. Whether we are working at your house or your neighbors, we never use a cookie cutter approach. Your water supply pipe, water pressure, and yard characteristics, are just some aspects that our team of local Citrus heights experts take into consideration while working with our customers. While we provide the best and most state of the art sprinkler heads, we also specialize in smart water controllers, drip irrigation, and water efficiency assessments to make sure that every aspect of your water conserving system is doing its own part to save you water and maintenance.
Value You Can See
With a water reducing sprinkler system, you are not only doing your part for the environment, you are also saving water, reducing maintenance time, and adding to the value of your home. Call our Citrus Heights irrigation installation experts today about what you can do to optimize your sprinkler system.